Carolyn Walsh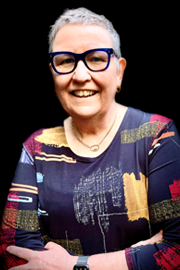 Chair
Carolyn commenced as Chair of the National Transport Commission on 1 January 2018. She has been a Commissioner since 1 January 2014.
Carolyn is currently a member of the Board of the NSW Environment Protection Authority and a member of a number of NSW Government agency audit and risk committees. She also provides consultancy services in safety and risk management.
Her past roles with the NSW Government have included Chief Executive of the Independent Transport Safety and Reliability Regulator and Executive Director, Office of the Coordinator General of Rail. She has also held several positions within the Commonwealth Department of Industry, Science and Resources.
Carolyn has a Bachelor of Economics and is a graduate of the Australian Institute of Company Directors.
Michael Hopkins

Chief Executive Officer and Commissioner
Michael Hopkins brings significant expertise in transport reform to the NTC. As a senior executive in Victoria's Department of Transport, Michael delivered future-focused policy reforms, network strategy and planning, as well as stronger governance to improve the way transport works. His focus is on delivering reforms that improve the lives of Australians, whether through shorter, faster journeys, cheaper goods because the freight network is more efficient or through safer roads and rail travel. 
As a consultant, Michael provided expert evidence-based advice to industry and local, state and national governments on responding to the contemporary challenges faced by a transport sector in transition.
Michael knows the NTC. He has previously been an Executive Leader at the NTC driving the organisation's work program, the delivery of reforms and the Commission's relationship with its partner governments.
Michael has a Masters in public administration from the Australian and New Zealand School of Government (via the University of Melbourne), a Bachelor of Arts in philosophy and chairs the Monash University Institute of Transport Studies' industry advisory group.
Jim Betts

Commissioner 
Jim was appointed as Secretary of the Commonwealth Department of Infrastructure, Transport Regional Development, Communications and the Arts in July 2022. He's spent over 30 years working in government agencies in the U.K, Victoria and New South Wales. 
Prior to becoming Secretary, Jim was a partner at strategy consultancy EY Port Jackson Partners and previously led the New South Wales Department of Planning, Industry and Environment as Secretary. During that period, the Department undertook transformational reform in areas like land use planning, water, urban design, sustainability, climate change, biodiversity conservation and energy. 
From 2013 to 2019, Jim was Chief Executive Officer of Infrastructure NSW where he led the development of two State Infrastructure Strategies, oversaw the state's infrastructure program, delivered major state infrastructure projects and developed a state plan for the construction sector.
Before moving to New South Wales, Jim held roles as Secretary for the Victorian Transport Department and Victoria's Director of Public Transport. 
Jon Whelan

Commissioner 
Jon Whelan is the Chief Executive for the South Australian Department for Infrastructure and Transport with over 35 years of extensive experience with the Department. He is passionate and committed to deliver valuable social and economic infrastructure, as well as service delivery.
Jon is the Rail Commissioner and Commissioner of Highways, with responsibility for ensuring well-connected and customer focused services are delivered safely, efficiently, and sustainably.
Jon prides himself on fostering collaborative relationships with industry and key stakeholders.