Carolyn Walsh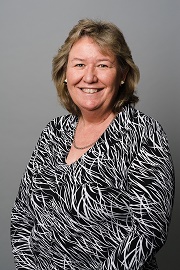 Chair
Carolyn commenced as Chair of the National Transport Commission on 1 January 2018. She has been a Commissioner since 1 January 2014.
Carolyn is a member of a number of NSW Government agency audit and risk committees. She also provides consultancy services in safety and risk management.
Her past roles with the NSW Government have included Chief Executive of the Independent Transport Safety and Reliability Regulator and Executive Director, Office of the Coordinator General of Rail. She has also held several positions within the Commonwealth Department of Industry, Science and Resources.
Carolyn has a Bachelor of Economics and is a graduate of the Australian Institute of Company Directors.
Nola Bransgrove OAM

Deputy Chair
Nola commenced as Deputy Chair of the National Transport Commission on 1 January 2018. She has been a Commissioner since 1 January 2014.
Nola was joint owner of Branstrans Pty Ltd, a long-distance family transport company based in Gippsland, Victoria for 48 years. She had an instrumental role in the development of the industry accreditation program TruckSafe and was responsible for managing multiple accreditation programs in the Branstrans business. She was awarded a Medal of the Order of Australia for services to the transport and logistics industry, women, and the community in 2012, and completed an Australian Institute of Company Directors course in 2018.
Nola is also Chair of Women in Supply Chain and Deputy Chair of Transport and Distribution Training, Victoria. Her past roles include Municipal Councillor of Traralgon Shire, Commissioner of Latrobe Regional Commission, Trustee Director of Transport Industry Superannuation Fund, Councillor of Victorian Freight and Logistics Council and Director or Chair of a number of other representative organisations.
Neil Scales OBE

Commissioner
Neil was appointed a Commissioner of the National Transport Commission on 10 September 2014.
Neil is the Director-General of Queensland's Department of Transport and Main Roads.
He is trade qualified and also studied for a series of work-related qualifications at Sunderland Polytechnic including ONC (Engineering), HNC (Electrical and Electronic Engineering), a BSc (Engineering), and an MSc in Control Engineering and Computing Systems. This was supplemented by qualifications in general management, a Diploma in Management Studies with Distinction, and an MBA with the Open University.
In 2005, Neil received an Officer of the Most Excellent Order of the British Empire (OBE) for services to public transport. He was also awarded an honorary Fellowship from Liverpool John Moores University in 2011 for his services to the region. Neil is a fellow of the Vincent Fairfax Family Foundation having successfully completed a course on Ethical Leadership.
 
Reece Waldock AM

Commissioner
Reece commenced as Commissioner of the National Transport Commission on 1 January 2018.
He has more than 35 years' experience in strategic management with expertise in organisational reform. His appointment as Director General of the Department of Transport (WA) followed a 20-year career with various state government transport agencies with 15 years as CEO. He was appointed the inaugural head of three transport agencies in May 2010—Director General Transport, Commissioner Main Roads WA and Chief Executive Officer of the Public Transport Authority. Prior to his public sector career, Reece held a number of senior management roles with BHP.
Reece is currently Chair of the Planning and Research Centre (PATREC), Chair of the Kimberley Port Authority (KPA), Chair of the SA Public Transport Authority (SAPTA) and a Board Member of Infrastructure Australia.
He has a Master of Business and a Bachelor of Science (Metallurgy with distinction), and is a Fellow of the Australian Institute of Company Directors and the Chartered Institute of Logistics and Transport.
Simon Atkinson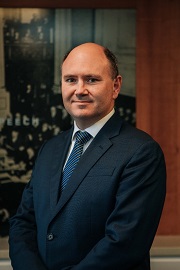 Commissioner
Simon Atkinson commenced as Commissioner of the National Transport Commission on 9 October 2020. He is the Secretary of Department of Infrastructure, Transport, Regional Development and Communications.
Simon has extensive government and public policy experience. 
Prior to his appointment as Secretary, Simon served as Deputy Secretary, Fiscal Group at the Treasury. Since joining the Australian Public Service as a graduate, he has held senior roles in many Australian Government portfolios, including Infrastructure and Regional, Finance, Defence, and Prime Minister and Cabinet.
Simon has held leadership roles delivering major policy reforms, including the establishment of Infrastructure Australia in 2007, the 2009 Defence White Paper and 24 Commonwealth economic updates. He also led the Budget and Fiscal element of the Regional Assistance Mission in the Solomon Islands in 2003–04.
Before joining the Australian Public Service, Simon commenced his career with the Queensland Office of the Director of Public Prosecutions. He is an alumnus of the University of Queensland with bachelor degrees in Science and Law.
Simon is a barrister and solicitor of the Federal Court and the Supreme Court of NSW. He holds a Graduate Diploma in Legal Practice and is a graduate of the Australian Institute of Company Directors. 
 
Dr Gillian Miles

Chief Executive Officer and Commissioner
Gillian Miles is Chief Executive Officer and Commissioner at the National Transport Commission.
With over 30 years' experience, Gillian has a strong record of achievement in public sector excellence, particularly in transport and community-focussed services. As a senior executive, she has worked at national, state and local government level, advising on major reforms, policy and strategies to transform the regulatory environment and the way infrastructure and services are funded and delivered.  
As Head of Transport for Victoria, Gillian designed and led the most significant reform of the Victorian transport system in decades, putting users' interests at the centre, integrating all transport services and minimising disruption through the transport infrastructure build. She delivered this through strong leadership which modelled collaboration and collective problem solving to improve planning and delivery of integrated transport outcomes. 
Gillian has also held Deputy Secretary roles in Transport and Community Development; she was CEO of Victoria's second largest council (the City of Greater Geelong), and Head of Strategy and Performance for the Transport Accident Commission.
Gillian achieved considerable results for communities across these leadership positions. She led the development of spatial and infrastructure investment place-based plans, as well as reform of grants to local communities, through driving a community-based investment logic and seeking whole-of-government coordination of strategies and initiatives.
Gillian has a Bachelor of Education, Master of Letters in Cultural Theory and Doctor of Business Administration.