Carolyn Walsh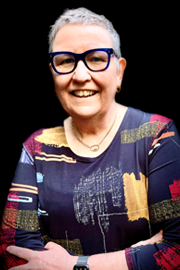 Chair
Carolyn commenced as Chair of the National Transport Commission on 1 January 2018. She has been a Commissioner since 1 January 2014.
Carolyn is currently a member of the Board of the NSW Environment Protection Authority and a member of a number of NSW Government agency audit and risk committees. She also provides consultancy services in safety and risk management.
Her past roles with the NSW Government have included Chief Executive of the Independent Transport Safety and Reliability Regulator and Executive Director, Office of the Coordinator General of Rail. She has also held several positions within the Commonwealth Department of Industry, Science and Resources.
Carolyn has a Bachelor of Economics and is a graduate of the Australian Institute of Company Directors.
Nola Bransgrove OAM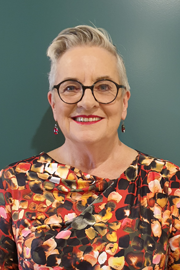 Deputy Chair
Nola commenced as Deputy Chair of the National Transport Commission on 1 January 2018. She has been a Commissioner since 1 January 2014 and Chair of the Risk Audit and Governance Committee since February 2018. 
Nola was joint owner of Branstrans Pty Ltd, a long-distance family transport company based in Gippsland, Victoria for 48 years. She had an instrumental role in the development of the industry accreditation program TruckSafe and was responsible for managing multiple accreditation programs in the Branstrans business. She was awarded a Medal of the Order of Australia for services to the transport and logistics industry, women, and the community in 2012, and completed an Australian Institute of Company Directors course in 2018.
Nola is also Patron of Women in Supply Chain and Deputy Chair of Transport and Distribution Training, Victoria. Her past roles include Municipal Councillor of Traralgon Shire, Commissioner of Latrobe Regional Commission, Trustee Director of Transport Industry Superannuation Fund, Councillor of Victorian Freight and Logistics Council and Director or Chair of several other representative organisations.
Neil Scales OBE

Commissioner
Neil has been a commissioner of the National Transport Commission since 10 September 2014.
As Director-General of Queensland's Department of Transport and Main Roads (TMR), a role he has held since March 2013, Neil leads the development and delivery of the Queensland Transport and Roads Investment Program.
Neil's experience in transport and engineering is extensive. Before becoming Director-General of TMR he was CEO of TransLink, and he has also acted as CEO of Queensland Rail. As Chief Executive and Director-General of Merseytravel, the transport authority for Merseyside in the north of England, Neil was one of the United Kingdom's most senior public transport executives. He has also held executive roles with transport and engineering companies and consultancies around the world.
Neil has achieved several qualifications in electrical and electronic engineering, culminating in a Master of Science in Control Engineering and Computing Systems. He also has qualifications in general management, including a Master of Business Administration.
In recognition of his major contribution to public transport, Neil was awarded an Officer of the Order of the British Empire in 2005. In 2021, he was awarded the Roads Australia John Shaw Medal in recognition of his outstanding contribution to roads in Australia.
 
Reece Waldock AM

Commissioner
Reece commenced as Commissioner of the National Transport Commission on 1 January 2018.
He has more than 35 years' experience in strategic management with expertise in organisational reform. His appointment as Director General of the Department of Transport (WA) followed a 20-year career with various state government transport agencies with 15 years as CEO. He was appointed the inaugural head of three transport agencies in May 2010—Director General Transport, Commissioner Main Roads WA and Chief Executive Officer of the Public Transport Authority. Prior to his public sector career, Reece held a number of senior management roles with BHP.
Reece is currently Chair of the Planning and Research Centre and Chair of the Kimberley Port Authority (KPA).
He has a Master of Business and a Bachelor of Science (Metallurgy with distinction), and is a Fellow of the Australian Institute of Company Directors and the Chartered Institute of Logistics and Transport.
Jim Betts

Commissioner 
Jim was appointed as Secretary of the Commonwealth Department of Infrastructure, Transport Regional Development, Communications and the Arts in July 2022. He's spent over 30 years working in government agencies in the U.K, Victoria and New South Wales. 
Prior to becoming Secretary, Jim was a partner at strategy consultancy EY Port Jackson Partners and previously led the New South Wales Department of Planning, Industry and Environment as Secretary. During that period, the Department undertook transformational reform in areas like land use planning, water, urban design, sustainability, climate change, biodiversity conservation and energy. 
From 2013 to 2019, Jim was Chief Executive Officer of Infrastructure NSW where he led the development of two State Infrastructure Strategies, oversaw the state's infrastructure program, delivered major state infrastructure projects and developed a state plan for the construction sector.
Before moving to New South Wales, Jim held roles as Secretary for the Victorian Transport Department and Victoria's Director of Public Transport. 
Dr Gillian Miles

Chief Executive Officer and Commissioner
Gillian has over 30 years' public experience in national, state, and local government organisations leading people-centred reform to deliver an efficient, safe and integrated transport system.
After leading the reform of Victoria's transport agencies into a central and integrated department through the creation of Transport for Victoria, Gillian joined the NTC to lead the introduction of automated vehicles, improvements to the productivity and safety of heavy vehicles (freight) and increasing the role of rail in a more connected land transport system. Focussing on the harmonisation of road, rail and intermodal transport systems will enable Australia to be more connected, productive, and able to capitalise on innovation and local manufacturing opportunities.
As well as being the CEO at the NTC and the Head of Transport for Victoria, Gillian has held Deputy Secretary roles in Transport & Community Development; she was the CEO at the City of Greater Geelong and the Head of Strategy and Performance at the Transport Accident Commission.
With strong interest in governance and risk management Gillian chairs the Diversity & Inclusion Committee as part of her Board duties at Roads Australia and sits on both the Risk & Audit and the Remuneration Committees as part of her Board duties at the Gordon TAFE. Gillian is a member of Chief Executive Women and was instrumental in establishing the National Women in Transport network, a partnership between the NTC, Infrastructure Australia and the Department of Infrastructure, Transport, Regional Development, Communication and the Arts.
Gillian provides mentoring and support to senior executives and young people. She has a Bachelor of Education, Master of Letters in Cultural Theory and Doctor of Business Administration.